How will you bridge the gap? Take a MicroTrack test drive — on us!
Roy Chitwood, developer of the Track Selling System™, stressed the importance of continuous sales coaching. However, many sales leaders fail to provide coaching due to time constraints, lack of expertise, or quality support materials.
MicroTrack solves this dilemma by providing Track Selling content in bite-sized, micro-lessons that sales managers can easily present during sales meetings. This allows managers to become competent Track Selling trainers, helping their teams grow their skills and knowledge, resulting in improved revenue, commissions, and customer satisfaction.
MicroTrack bridges the coaching gap to effectively reinforce Track Selling skills. Give it a try to see if it's a good fit for you.
What is Track Selling MicroTrack™?
MicroTrack is a blended sales training tool that combines micro-lessons, videos, participant worksheets, and a leader discussion guide into a quick and effective sales skills and knowledge reinforcement process.
Lessons include an overview of each of the Track Selling Seven Steps that cover rapport-building, qualification, presentation methods, objection handling, and closing.
To ensure effectiveness, the MicroTrack resource kit provides a detailed Leader Discussion Guide that walks managers, trainers or coaches point-by-point through each lesson. It allows them to guide discussions, conduct exercises, and reinforce video concepts.
Try Track Selling MicroTrack today by completing this form. You'll be sent an email giving you access to the trial.
How to Access the Track Selling MicroTrack™ Free Trial
Please complete the form below to access the free trial of the first two lessons of MicroTrack. After you complete the form, you'll be sent an email confirming your request with instructions for the next steps.
What's included in Track Selling MicroTrack™
MicroTrack has all the tools you need for effective sales skills reinforcement training
Below are examples of the resources included in MicroTrack. On the left are examples of the videos. In the center is the Participant Worksheet from Step 1 - Approach. On the right is a page from the Leader Discussion Guide.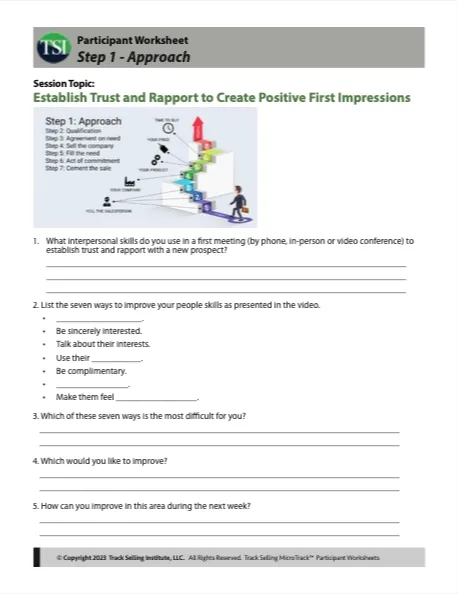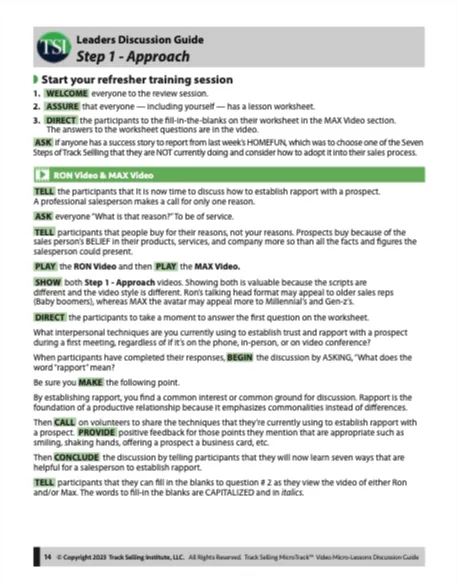 What's covered in Track Selling MicroTrack™
Lessons for each of Track Selling's Seven Steps + Bonus Materials
Reinforce and improve your team's Track Selling knowledge, skill, and attitude through each of the seven steps, plus an Introduction and lesson on objection-handling.
Review the core concepts
of the Track Selling System™
Build trust and rapport
with your prospect.
Ask great questions,
be a great listener.
Confirm you understand
their needs.
Tell your company story
with visuals.
Tell features,
sell benefits.
Ask for the order,
close the sale.
Handle objections,
close the sale.
Thank and assure your client, schedule next steps.